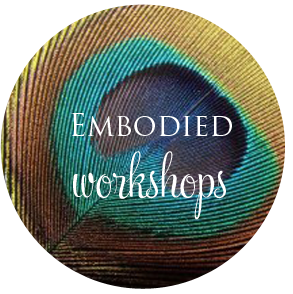 Olivia's tantra workshops are fun, interactive, and energizing. They can vary in size from 8-20 participants to semi-private sessions with only two to four couples to ensure lots of personal attention with plenty of opportunity for questions. Unless otherwise indicated workshops are open to everyone.
Class sizes are kept small (8-20 depending on level) to ensure you get lots of personal attention and a chance to ask questions. Classes are for men and women unless otherwise indicated.
Proper attire for participating in workshops is comfortable clothing that allows some movement. Clothing is required unless indicated otherwise. Most workshops will include discussions and non-contact exercises with other participants. If you would like to participate in a couples only workshop as an individual, simply bring someone you feel comfortable with as a practice partner.
All workshops must be pre registered and pre-paid in order to hold your place as space is limited.
At the door maybe available at a different investment
Take advantage of Early Registration and receive 10% discount email or call 604-710-1566
---
Tantra, an ancient Eastern Practice, teaches you to utilize your sexual energy for increased pleasure and spiritual connection. Practicing this ancient art in modern life. You'll also understand many aspects of the mind, heart and spirit that greatly enhance your experience.
Level 1:: Embodied Love | Heart and Emotions
Discover how you can raise your sexual energies and guide conscious pleasure throughout your body. Using Tantric practices, meditation, breath-work, sound and movement, you'll explore the healing of communication through intimacy.
Sharing intentions, boundaries and fears.
Communication skills to build greater trust & intimacy
Discovering and removing blocks to love
Opening your heart
Safe Sensual Touch
Connection; Eye gazing
Let go and surrender
Length: 3 hours
Date: Feb 2017

Investment

$60 per person –  $100 couple (Prepaid one week in advance)

$80 per person – $150 couple
Level 2:: Embodied Sex | Cultivation
Learn to increase pleasure in the bedroom & extended love-making techniques
How to slow down in the bedroom
Sensual breath increasing connection & pleasure
Sexual connection and Presence
Sexual anatomy
The G-spot;
Using Toys for spice
Self-pleasuring
Ejaculatory choice
Length: 3 hours

Date: Spring 2017
Investment
$60 per person –  $100 couple (Prepaid one week in advance)
$80 per person – $150 couple
Level 3:: Embodied Touch | Massage
Find bliss in pleasing your partner, relaxing and pleasure at the same time. Using meaningful touch and learn how to touch for your pleasure and for your partner's pleasure. Ignite your partner's senses and light the fire of passion using different types of touch and tantric techniques. Learn first by watching a demonstration then practice on your partner.
Awakening the senses
Connecting with touch
Sexual and Erotic Touch
Awakening breath
Length: 3 hours

Date: Spring 2017
Investment
$60 per person –  $100 couple (Prepaid one week in advance)
$80 per person – $150 couple
Level 4:: Embodied Mastery | Lotus Flower Women & Men
This workshop has been split into two sessions enabling more time to practice with my guidance.
A new level of sexual mastery, advanced tantric knowledge and how it can create a new flavor in your relationship.
Sexual healing
Yoni & Lingam strokes
Female ejaculation
Sacred Spot; for men
Fantasy & role-playing.
Alternative Relationships and Sexuality
Women – Spring 2017
Men – Spring 2017

Length: 3 hours

Investment

Prepaid $60 per person –  $100 couple

At the door $80 per person – $150 couple
Level 5:: Tantric Puja | Integration
Play and frolic with like-minded God and Goddesses, dress in your sensual clothing, lounge on cushions in the temple. Tasting delectable tasty treats and ambrosia
Explore expanded relationships
Communication and boundaries
Sharing your love
Tantric feast
Dynamics of loving more
Length: 3 hours

Investment – pre registration only

Prepaid $75 couple

At the door $100 couple
Tantric Bliss workshops and intimacy retreats are available around Canada and vacation spots such as Mexico, Hawaii, Thailand and are designed to be suitable for beginners and advanced participants.  There is a combination of breathwork, bodywork, touch, meditation and movement activities as well as sharing and discussion on a variety of topics. The space created is fun, healing, gentle and personalized to meet you wherever you are in your process.