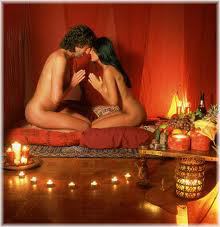 Sacred Ritual is an exploration of intimacy for couples who want to experience more love, intimacy, passion and sensuality within your relationship. Reglight the fire of your relationship and ignite the spark that has been lost. Experience a passionate evening were you can rediscover your passion, heart connection, showing your partner your appreciation.
Gaze into each other's eyes, touch, and explore each other again as for the first time.
Fall in love with your partner all over again
Become a better lover, heart connected sex
Pleasing each other using new techniques
Increase your intimate communication using new skills
Celebrate your divineness and honor the God and Goddess within each other!
Sensual Ceremony includes:
Sensation Bath Ceremony (optional): to awaken the senses and purify the mind. Lightly touch and wash your partner with your whole body and heart residing in every stroke.
Tantric Union Ritual: a series of connecting exercises designed to expand the sexual energy throughout the body.
Sensual Tantric Massage: relax and receive a very pleasurable and sensuous full body massage given by  Olivia and partner on two side-by-side massage tables.
Sacred G-Spot Healing: gaze into the eyes of your partner or Olivia, with synchronized breathing and let go of the emotional blockages and body armoring. Experience a transformation of healing as you open your heart, increasing intimacy in your relationship.
Kama Sutra: explore the moment of contact and meet each other in spirit
Throughout the Sacred Ritual, you will learn how to:
Would you like to learn how to give each other Sensual Tantric Massage?
Would you like to explore Amrita (female ejaculation) or learn to be multi-orgasmic?
For men, would you like to develop more ejaculatory control?
Make it a Special Occasion, Treat your Wife or Girlfriend to a Tantric Session
Olivia would be happy to design a Sacred Ritual to your needs and interests.
2 hours $500
3 hours $700
4 hours $850