Everyone thinks their problems are worse than others'.  In reality, we're all facing the same one…
How to be more conscious at any given moment. Through unconsciousness, we allow ourselves to be institutionalized and programmed in many ways against our nature. This creates a continuous conflict between our primal energies and the ideas we have about who we are.
To live authentically and in alignment with one's natural energy is one of the most challenging and rewarding decisions an individual may face in a lifetime. It requires being brutally honest with oneself to see and understand the patterns created which cause separations between you and infinite possibilities.
This is the challenge we have welcomed, committed our life to and inspire others to embrace.
Olivia
Ongoing personal study in the realms of tantric yoga, breath-work techniques and Tantra, contribute to the development of my own soft and loving style of share this knowledge.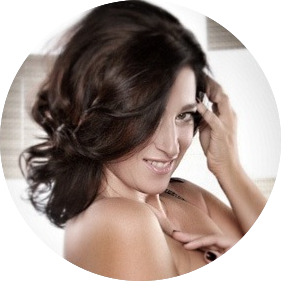 My background in massage and yoga is indispensable in round out spiritual experience with grounding and awareness that comes with anatomy and physiology,within our high paced, demanding society, sexual difficulty is very often rooted in physiological stress, as well as psychological anxiety.
My background includes
[list_with_icons icon="rounded"]
Certified Massage Therapist (certified since 1998)
Western Psychology
Yoga and Dance
Leadership Training
Tantra and Sexual Healing Certification Training
Spiritual Sexual Shamanic Practitioner Training with Baba Dez
and an ongoing fascination with the human potential,the natural world and the miracle that is our body
I like to work with clients under the understanding that nothing I teach is presented as the ultimate truth, sharing my knowledge, observation and opinions based on my experiences and what wisdom I have gathered.
I believe that sexual energy is at the source as the vitality and creativity we wish  to share with the world. When this unobstructed flow moves through our entire body, we can direct it towards healing, rejuvenation and expanding consciousness.
Tantric practice clears unobstructed path for one's vital energy throughout the body. Learning to slow down, be present, and to get back into our bodies are the essence of all yogic practice.
My intention is to aid in the unleashing of vital energy with tools that keep this possibility accessible for my clients for the rest of their lives.
River
For the last fifteen years River has undertaken a personal study of many spiritual disciplines and healing methods, including meditation, Buddhism, Martial Arts and Energetic Healing and Sacred Sexual Healing.
River has been practicing neo-tantra (as taught in the West) for the past 5 years and has done trainings with several of the leading US tantra schools, both in groups and as individual sessions. He trained in Sacred Sexual Healing with one of the leading practitioners in this field, Baba Dez, founder of the Sedona Temple.
In his ongoing quest for knowledge River has embrace tantra and has studied with Olivia for the last 4 years. There is much he has learned from the teachers and women in his life and has the innate sense of what a women desires. He has the ability to put people at ease with his dynamic personality.
Trained in Swedish Massage
Licensed Personal Trainer with a physical therapy background
Rivers work in sexual healing is coloured by all aspects of his experience and training. He is based and offer mobile sessions in Vancouver and his studio in North Vancouver.
This healing work is dedicated to the great goddess Kali, who is the embodiment of feminine creative energy in all its aspects, not just the image of feminine fierceness that is commonly known in the West.